What was the original brief for this campaign?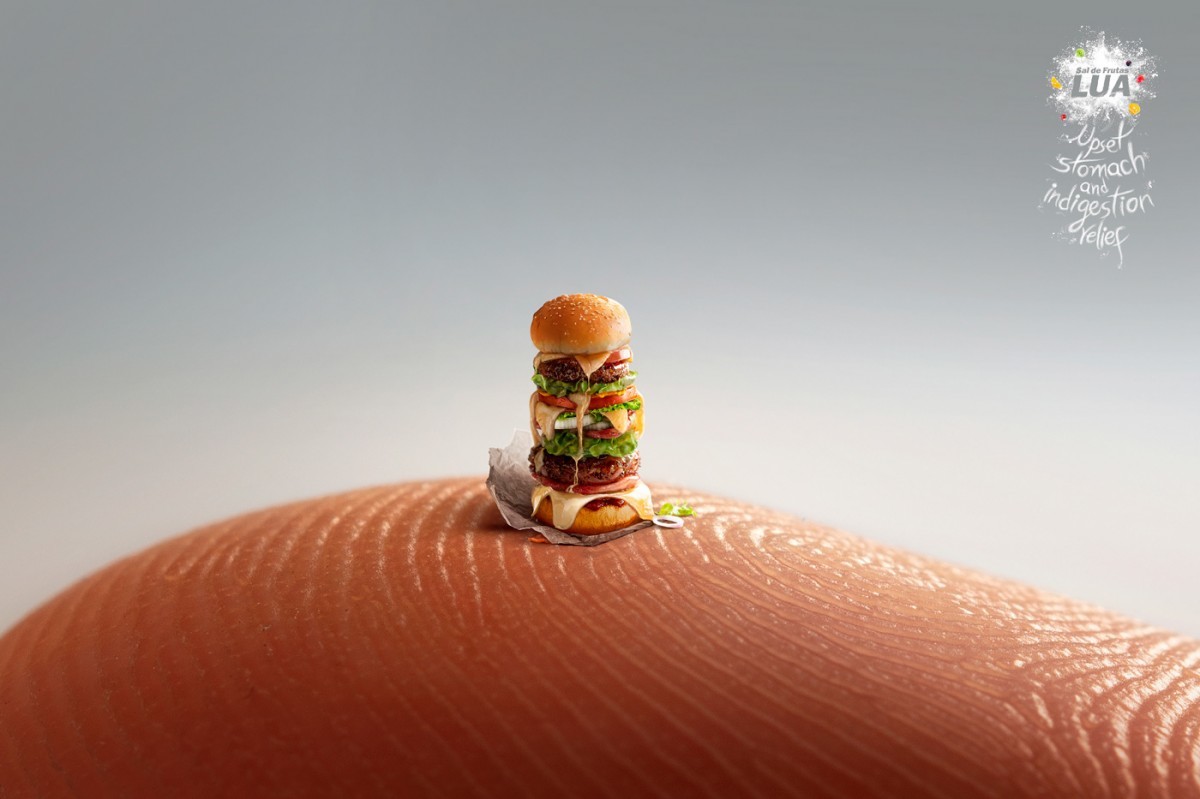 Actually we never had one, just an amazing product and lots of energy and creativity to use.

It was like this how a work of proactivity, rather than a specific requirement, managed to communicate in a very clear way what Sal de Frutas Lua is for, plus we made the client fall for the campaign.
Tell us about your role in the creation of this work.
Although I am a creative director, my role was the same than the whole team: together we thought how to do something different from what we had seen in the category and especially in the brand, our purpose was to do an imeccable work and to be able to sell it to the client to show him why this campaign was so relevant to his brand.
What inspired you to approach the campaign this way?
It really was something very simple, if a food is "heavy" it feels as if it does not fit in your stomach, so much, that it can make you feel that you are about to explode. That's why we wanted to show the opposite, that with Sal de Frutas even the food that normally causes indigestion (fatty, with many sauces, seasoned, ...) can become little and super easy to digest.
How difficult was it to sell the idea to Sal de Frutas LUA?
Considering that we worked directly with the real product selling line "upset stomach and indigestion relief", it was not difficult at all to sell the idea. In addition, reaching the client with the final result gave us a great advantage and a Great Yes for approval.
What was the biggest challenge you faced during the process?
To make it happen! Once we had the idea, we needed to execute it, and due to the demanding handcraft to develop each piece and off course, because everything had to be perfect -regardless of the size-, at the beginning it was a huge challenge.
What did you learn from the experience?
We learned many things but it was mainly this:

1. That there is nothing more important for a client than selling his product. That's why how the product works and our creativity should always go hand in hand, no matter how good an idea is if it does not make the brand grow.

2. That to sell a different idea you have to do it in a very attractive way; that is why it is sometimes better to present a final result or something very approximate, especially if it is a print campaign.
What's a "behind the scenes" story that only you know about?
It is not easy to make porcelain figures and even more if they are on such small scale.

That is why with the help of an artist we had to mold the material over and over again so that even the smallest detail of the micro-food was achieved in the best possible way, we wanted it to have the visual effect of "if I eat this I am going to feel sick" in a very aesthetic way.

And to be honest, this process was much longer that the meeting we had with the client to approve and implement the campaign.